When I started my interest in electric bikes, I thought that I would build one from scratch.  It would be called "VOLTVO" because "volvo" is "I roll" in Latin.  I'm a Photoshop Junkie, so, it was a lot of fun designing it.

IT'S A LIGHTNING BOLT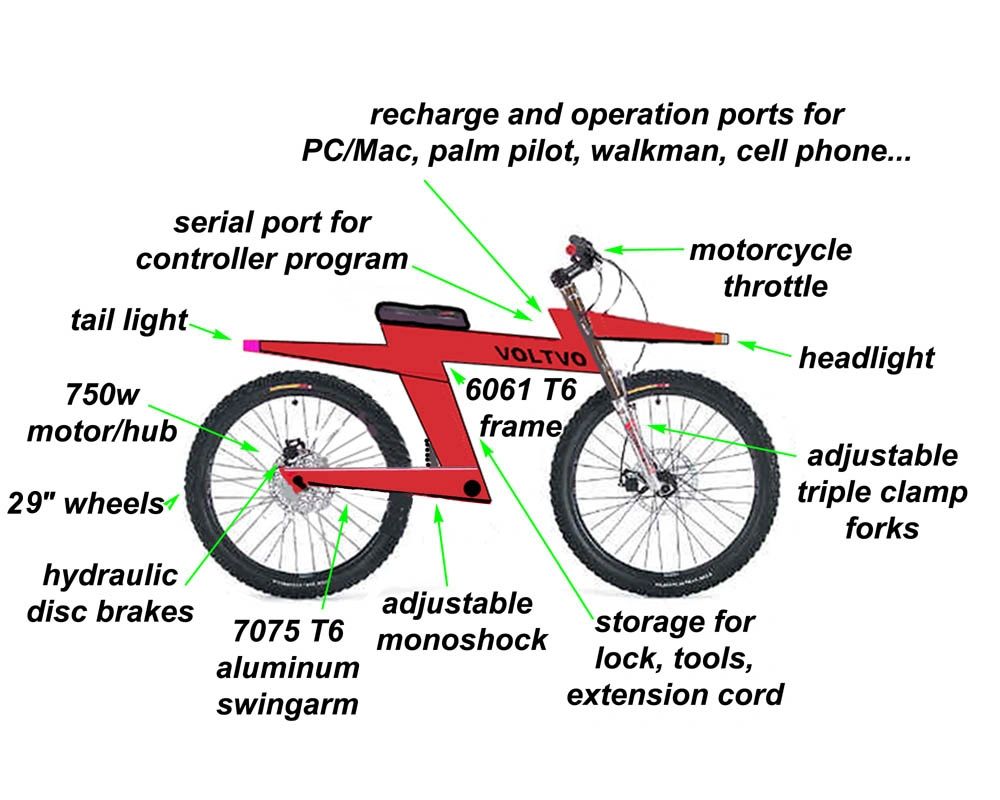 I have everything to build this BIKE
including the full scale frame templates...
the top view is a long ellipse
just ran out of priority

CHARGER:

They're all different.  Each cell chemistry requires a specific type of charger.  If you charge your nicads with a lead charger, you will probably hurt them.  Don't build a 48 volt batterypak of secondary lithium "D" cells, until you have a charger for them (as if you could find or afford either).  Some "SMART" chargers are smarter than other "smart" chargers. 

BATTERY:


The more volts and amps the better.  It's better to have a charger at home and one at work, then your battery can be half as big so, less money and weight.  Some people think that they want to go 40 miles on a single charge.  If you're that strong of a cyclist, you don't need electric assist, spend the money on a lightweight road bike.  Electric bikes work well as "townie" bikes....go to school, work, grocery, bank, post office, cool breezin'....   There really isn't enough power to help on mountain bike trails.

CONTROLLER:


Here's where you review   http://www.4qd.co.uk/faq/roadspd.html

Heinzmann controllers have a soft start.  That is, you get gently ramped up to full throttle, even if you give a full-on twist.  I used a Curtis 1405 wheelchair controller on a bike, and it wanted to do giant wheelstands whenever you started.  I often wondered how that worked out for wheelchairs.  Anyway it was cool.  I also tried a few no-name cheap Chinese eBay controllers that haven't failed.  It seems that there are some controllers specifically built for a particular brushless Chinese hub that also requires a "Hall Effect" potentiometer.  Mostly this is cheap scooter stuff, and I do have one running, but am real easy on it.

POTENTIOMETER:

Magura makes a nice one that's just like a motorcycle twist-grip.  Lee Iacocca E-bikes use a high quality thumb lever style.  The EV Warrior thumb lever potentiometers are junk. 
There's some cheap ones out there that work, but be sure that it works with your controller.

You have an opposed thumb for a good reason.  Use it to help hold onto the handlebar, and not to operate the "throttle".  The thumb lever style is very tiring on your hand and not as safe as the motorcycle style twist-grip.
Did I mention that Magura makes a nice one??

MOTOR:

400Watts continuous is the minimum.  250Watts won't noticeably help an adult.  500Watts is sufficient.  900W is illegal, but really works well.  Like I said before Brushed and Geared works best in reality.